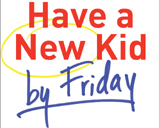 Change your child's behaviour--fast!
A video based interactive six week course with participant's guide.
Want a kid without the attitude? Without the behaviour that makes you slink away in the grocery store and pretend you're not the parent? A kid with character who isn't a character? If you're tired of defiant attitudes and power struggles with your little ankle-biters or the disrespectful hormone group, do this course and follow the simple principles, and you'll have a new kid by Friday. Guaranteed!
With his signature wit and commonsense psychology, internationally recognized family expert Dr. Kevin Leman reveals why your kids do what they do and what you can do about it--starting right now.
6 SESSIONS
1. Introduction: They're Unionized . . . and Growing Stronger.
2. Monday: Where Did They All Come From?
3. Tuesday: Disarming the Dude (or Dudette) with the Tude.
4. Wednesday: Show Me a Mean Teacher, and I'll Show You a Good One.
5. Thursday: But What If I Damage Their Psyche?
6. Friday: The Doc Is In . . . and It's You.
Courses are run throughout the year.
If you are interested please sign up here.
(NB: This is different than the signup to be notified about meetings and events).